Today I will explain how our team matches the egg and sperm donors with our patients.
But before you keep reading, I would like you to write down what do you most value in a person and in yourself.
When you read back your list, you will see that the traits you wrote down can be classified in three different groups: character (positive thinking, tendency to help others, friendliness, kindness, strength, determination, commitment, etc.); intellectual capacity (intelligence, mental agility, etc.) and physical appearance (beauty, style, elegance, etc.).
Now imagine that you need eggs or sperm from a donor in order to have children. How would you like this person to be like? Would you give the same answers?
What do our patients value the most?
This week we have analyzed a survey on hundreds of patients from our clinic. We asked them to rank the traits that they value the most from an egg and/or sperm donor.
It turned out that the most important trait for our patients is the physical appearance –51% – followed by character –31%–  and cultural level –16% –.
The answers –referring to both egg and sperm donors– are the same regardless the nationality of the patients.
Women and men give the same answers and there is no significant differences to the answers from a single women that undergoes an artificial insemination or an In Vitro Fertilization treatment with sperm bank.
Are you surprised? What do you think about it? I assume that they put the appearance first as many people think is mostly inherited. Let's see if that is really the case.
What traits do we inherit and which ones do we acquire?
It is true that the appearance has an important genetic factor, even though is also true that genetics are whimsical and there is an enormous number of combinations. Height, hair and eye colour, facial features, etc., are determined by genetic inheritance but, apparently, also by the facial symmetric percentage –which can make a person more attractive than another. Take a look at this photograph of Claudia Schiffer and her sister and you will understand what I mean.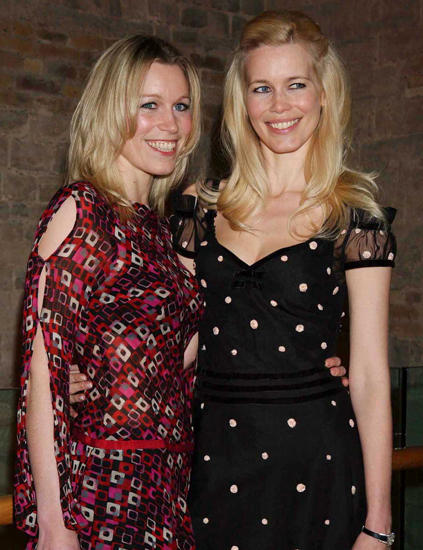 The physical appearance is also influenced by the environment of the child. The body movements, the way she/he smiles and looks, i.e. the movements are learnt, the child copies the people around her/him.
The attitude is also very important, and it depends on the personality. Look at the images of the American photographer Gracie Hagen; they show how the same body can look attractive or not depending on the attitude. 
Intellectual capacity, not long ago, studies on children's IQ held that 50% of intelligence was inherited. With the improvement of the genetic development analysis –which studies the gene effect in a person's life time– it has been shown that the genetic contribution for intelligence is manifested during a long period of time and it reaches 80% in adulthood.
Studies on identical twins that grew up in different families show a great number of intellectual similarities between them, regardless of the different environments they had been living in.
Character, emotional and social intelligence, i.e. how she/he feels, acts, thinks and interacts. There has been always a debate on what percentage of a particular trait is inherited or acquired. Nowadays, there is the tendency to think that some traits are mostly inherited; other traits are linked to the environment and the last group of traits which can be manifested or not –depending on the home environment, culture, education and circumstances.
The five personality traits that are considered inherited:
Level of extraversion and introversion.

Level of emotional stability. Tendency to bad temper, depression, anxiety, anger, etc. versus emotional control.

Level of interest in new experiences, curiosity, imagination, creativity, etc.

The level of interest in others, altruism, kindness, empathy, etc.

Level of self-discipline, responsibility, capacity to follow rules, organization, perfectionism, etc.
Twins have a more similar character than brothers, and identical twins even more –although they had been brought up in different places. That being said, from the moment identical twins are born, they show differences in their characters as, apparently, some individual experiences are acquired during pregnancy.
Knowing all that, how do we match our donors?
Appearance: we know them perfectly and we study in detail their features to match them with those of the patients who will be the recipients of the gamete.
Intellectual level: we only organize informative campaigns in universities –not because is a requirement, i.e. if a non-university friend comes along we will accept her/him– only because we know that there are more candidates. Donors usually have a higher level of education –in environments with a lower educational level donation is not well accepted.
Last but not least, the personality: our psychologists interview the donors and get tests done to discard possible pathologies. But that is not all: furthermore, we have created the "personality matching", a tailor-made test designed to know the hereditary personality traits of our donors. Thanks to this program, we have managed to search for each patient the donor that most resembles her/him not only in terms of physical characteristics but also according to her/his temperament. If you want to take the test just click here.
We consider the matching of the donor extremely important. It is a feeling of responsibility and honor created by the trust our patients place in us.