As you know, almost two years ago, we launched with great enthusiasm a new project with new family models in mind: Rainbow Fertility Barcelona.
Under this brand of Institut Marquès, we welcome those lgtbi+ persons who decide to have a child either as a couple or on their own. Thanks to Rainbow Fertility Barcelona we are increasingly conscious of the importance of raising awareness about the treatments that can help them have their baby because there are still many taboos and misinformation on that subject.
We talk about it with our patients and they tell us their stories. We are surprised about the obstacles they still encounter and with the anecdotes they experience: Esther and Ana explained us that "in the hospital the nurses asked them if the father had not been able to come and accompany the mother during the birth". Gemma and Ariadna are tired of being asked which of them plays "the role of the father".
From Milan, Sonia and Federica also tell us about the legal problems they have in their country to register their daughter.
You can listen to the video-interviews following this link:
https://www.rainbowfertilitybarcelona.com/about-us/opinions-rainbow-fertility-barcelona/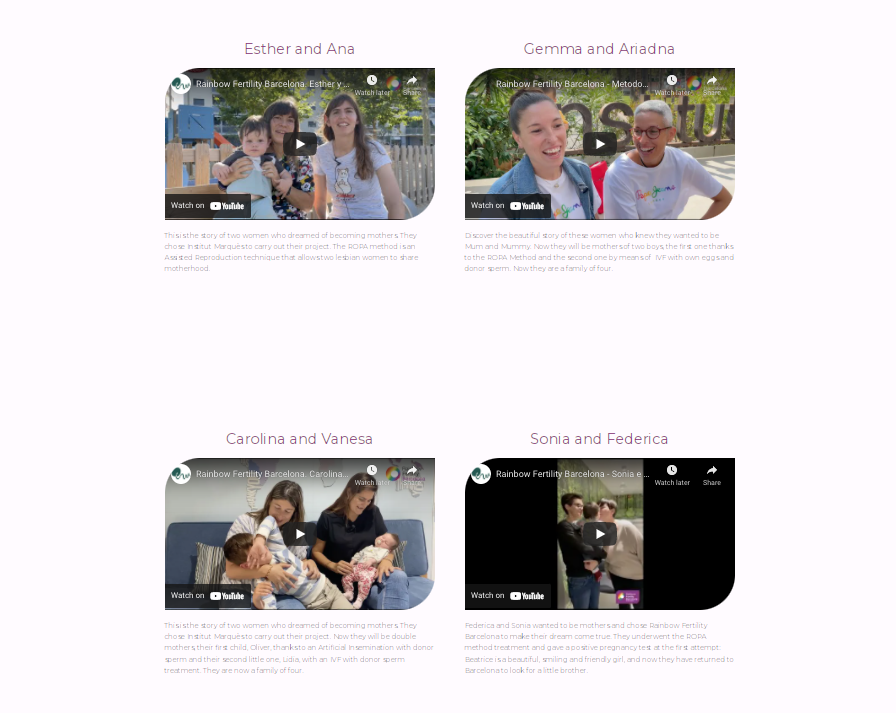 Many of the lesbian women who come to our clinic choose the Ropa Method to have their baby. We call this treatment "shared motherhood" because it is an In Vitro Fertilisation with donor sperm in which one of them provides the egg and the other one receives the embryo and carries the pregnancy. Other assisted reproduction treatments that lesbian women can opt for are artificial insemination with donor sperm or embryo adoption. At Rainbow Fertility Barcelona we accompany them and try to make them feel comfortable and respected.

Dr Marisa López-Teijón and Katy Pallàs, president of Famílies LGTBI Barcelona