As you already know, thanks to Babypod we are carrying out research studies about foetal response to different voices and tunes.
In these studies, we have proved that foetuses can barely hear any noise coming from outside, but they can hear from week 16, when they measure 11 centimetres, only if the sound comes directly from the vagina. To date, when performing ultrasounds we have seen that the sounds that stimulate them the most (they wake up, move their mouth, stick out their tongues, etc.) are classical music and traditional songs, which have been transmitted from parents to their children for generations. These simple and repetitive sounds are the ones babies like the most, which is why we sing them lullabies.
It is, at the very least, surprising to observe that not all music has the same effect on babies. I would suggest you to check the following table that compares foetuses' reactions when they hear music, such as: Mexican folk songs, tribal music, classical music or rock and pop songs.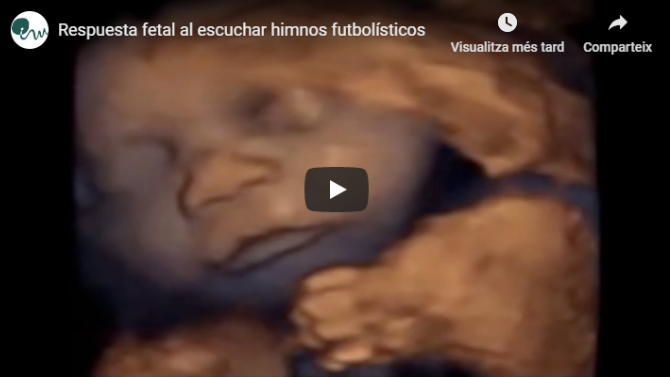 Onrush of requests from our patients
However, times change and the imagination of our patients is prolific. Many pregnant women and their partners tell us that, at home, they play the anthem from their football team to their babies in their Babypod and they keep asking us if we have studied their reaction to it. That is why, this month, we shall be starting to study this subject in our Barcelona centre. Since we need many patients, we have asked for volunteers, who will get a 4D musical ultrasound with Babypod and we will play the baby's parents favourite anthem. Will the Barça anthem have the same effect as the one from Real Madrid or Español? How will they react when we play them the Sevilla or the Deportivo ones? I will let you know about the results!
What if they listen to celestial music?
 As the research on the effect of football anthems on foetuses continues, a new study has already been launched at Institut Marquès to learn about the reactions of future babies to "celestial music". In this occasion, a very special piece of religious origin has been chosen. It is a composition made from the musical notes found in the mantle of the Virgin of Guadalupe. The melody, which could be classified between the classical genre and the new age, is generating great expectation.